Chairman
Message from
The Chairman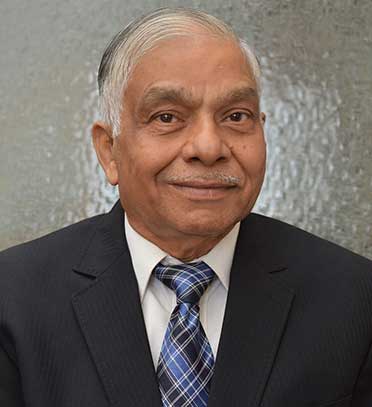 Dear Shareholders,
Fiscal 2017 was an exciting year for your Company. Historically, we touched a new high in the financial and operating performance and at the same time, we also prepared ourselves for the opportunities that may come our way in the future.
Before we detail you about Cupid's plan for the future, let me take you through the key highlights of fiscal 2017. We reported an uptick of 36% in the operating revenues from Rs. 6,280.47 lac in FY16 to Rs. 8,521.98 lac in FY17. A ramp up in business across our segments led to the increase in the revenues and over 28% increase in the profitability. As our revenues in the female condoms has grown faster than the male condoms, the overall margins have remained consistent around 40%. This year, we also commercialised our newly launched water based lubricant jellies, and I am happy to share that the product has gone well with the end users and the company have got repeated orders from our institutional customers.
During the year, we also stepped up our efforts in the brand promotion activity for the Cupid range of products. This initiative has been in line with our planned foray into B2C along with giving more brand recognition for the Cupid condoms. Unlike most of our peers, our strategy in brand promotions is interactive with an objective of creating awareness about the benefits that our products offer. On these lines, we also initiated surveys and extended our "For her" awareness campaign to various locations in the Mumbai Metropolitan Region to empower Indian women and communicate the benefits and use of our Female condoms along with our other products.  The target audience very well received this activity and the results indicated many insights for us. It also complemented our firm belief that India is a potential market for our female condoms and a successful retail foray can not only enable broad reach of our products but can also significantly contribute towards women empowerment and wellness in the country. Throughout the year, we have also activated our channels on social medias to achieve brand promotion and further strengthen our campaigns for the youth population. 
Amongst the major other highlights, we also featured in Forbes Asia's 200 best under a billion list which was again a rare achievement for an Indian Company. Further, our listing on the National Stock Exchange which is a significant milestone for us and would allow investors a wider platform and liquidity in the stock. Overall, in fiscal 2017, while we strengthened our foothold in B2B space, we also initiated our foray into B2C with few initial steps.
We believe the business climate is robust and the future lays a strong opportunity for a company like Cupid. As we enter into the new financial year (FY18), we have also charted the course of the main strategic themes that will drive us to the next ladder of growth:
Strengthen our Institutional business in new territories
We have a good order visibility for the ongoing fiscal (FY18). However, we also foresee opportunities in the industry going forward. The usage of the condom is projected to reach 44.7 billion pieces by 2021 from 26.5 billion pieces in 2015 and we expect the growth to come from select markets. While we are present in most of these markets, we also plan to launch our products in different developing countries like Brazil, Nigeria, Tanzania, Indonesia where there is significant demand for the products. We have already initiated the process, and we intend to get our products registered with local authorities for market access in the future.
Foray into the United States for Female Condoms
Part of our overall strategy, we are in the process of seeking approval for our female condoms from the USFDA. While the same authority has already approved our male condoms, a nod for Cupid Female Condoms will complete our product basket for the launch in the major developed markets. USFDA approval will also qualify Cupid for bidding for the USAID tender businesses for distribution of condoms across the world.
India Based B2C business
We have launched our Cupid range of male and female condoms along with lubricant jellies through a well-thought-out promotional activities and a robust distribution network. On the branding and advertising side, we are intensifying our promotional activities at the ground level, followed by online activities thereby creating buzz for the brand and building a strong brand presence. From a distribution standpoint, we aim to establish a strong retail presence by appointing its super stockists who will be supported by our marketing team. The India foray has begun with a launch in Mumbai followed by Pune, Ahmedabad, Jaipur, Calcutta and few other states.  Besides these initiatives, we also intend to bolster sales through online channel and target to distribute products in 1,000+ towns and cities in India.
New product initiatives
We would continue evaluating new growth opportunities both through organic and inorganic route. Some of the identified opportunities that we are working on include the launch of our unique patented male condom giving extra pleasure to the user during intercourse, a second generation hi-tech version of Cupid Female Condom, our foray into hand sanitizers, vaginal creams and wipes used in the slowdown of premature ejaculation.
Overall, we have set the foundation for a sustainable growth going forward; we are confident that our strategy in the B2B and B2C business is thoughtful and directed at expanding our reach to mass markets while maintaining affordability, accessibility and usefulness.
Let me thank you for your trust and support in management and for being a valuable part of the Cupid family.  I also take the opportunity to thank all the employees of the company for their dedicated service towards Company's growth.
Mr. Omprakash Garg
Managing Director, Chairman